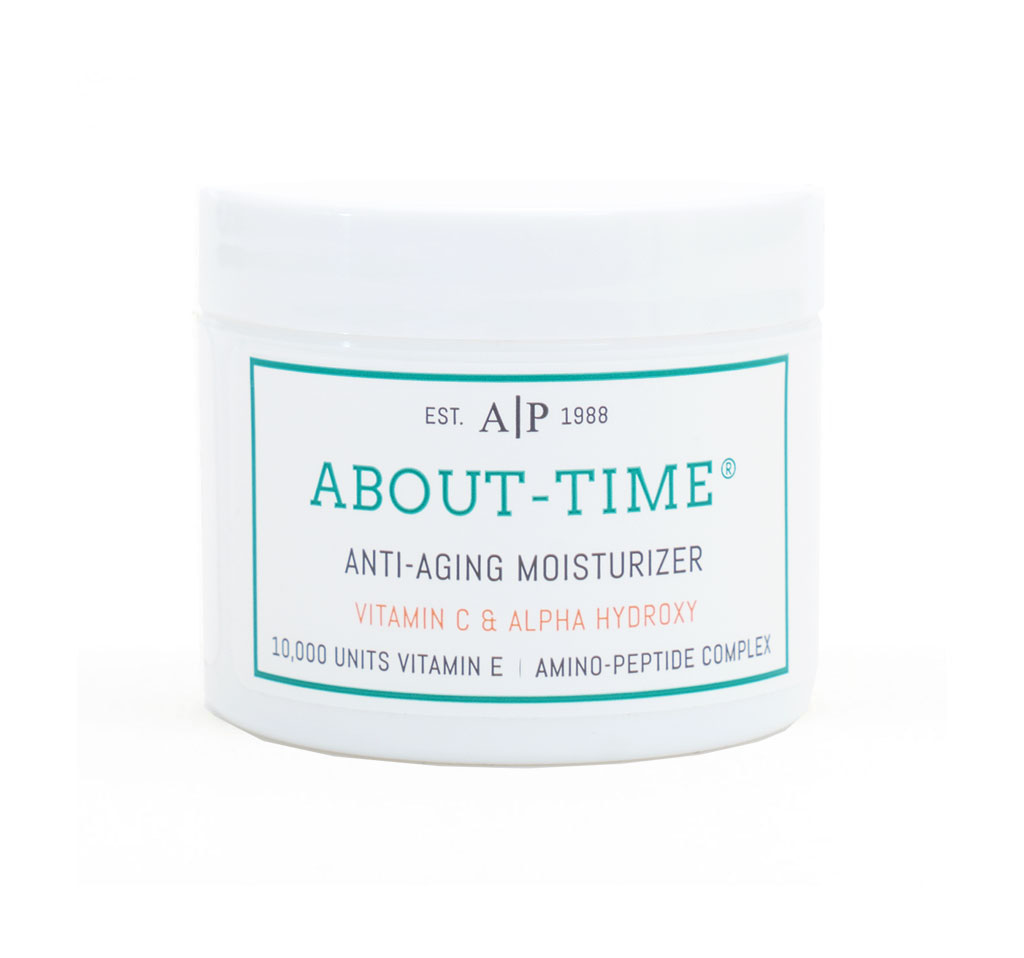 Buy 1 to 4 Jars of ABOUT-TIME

®

Anti-Aging Moisturizer for $34 per jar.

Buy 5 Jars of ABOUT-TIME

®

Anti-Aging Moisturizer, Get the 6th Jar Free*.

*6th jar free promotion is offered only on our website and is not valid for in-store purchases. Payment for product may be made with any major credit card or through PayPal. You do not have to have an account with PayPal to purchase.

Note: Shipping charges only apply to orders shipped within the United States. For international orders, please email us at ap.palmer@verizone.net.
Feel how easily
About-Time®
goes into your skin, smoothing your way to a younger looking you. Used as a night or day cream and as an under makeup moisturizer,
About-Time®
can actually help reduce the look of time—no matter how old you are. Creamy, clean-smelling
ABOUT-TIME®
is a richly textured mixture of 6 moisturizers, collagen, retinol, vitamins C and E, alpha hydroxy and the powerful anti-aging super amino-peptide, Matrixyl. Start using
ABOUT-TIME®
today and watch those years melt away.
Made in the USA
Apply
About-Time®
to a freshly cleansed face.
Gently smooth in cream using your fingertips as a nighttime or daytime moisturizer.
Matrixyl licensed under U.S. Pat. No. 6,492,326, 10,000 units Vitamin E, Vitamin C, Alpha Hydroxy, Water, Tocopheryl Acetate, Mineral Oil, Propylene Glycol (and) Glycerin (and) Oleic Acid (and) Quatemium 26 (and) Lactic Acid (and) B.H.T., Glyceryl Stearate SE, Glycerin, Aloe Vera, Ascorbic Acid, Collagen, Propylene Glycol, Isopropyl Myristate, Cetyl Alcohol, PEG-100 Stearate, Stearic Acid, Propylene Glycol (and) Diazolidnyl Urea (and) Methyl Paraben (and) Propyl Paraben, Triethanolamine, Carbomer 940, Dimethicone, Panthenol, Pyridoxine Hydrochloride, Allantion, Vegetable Oil (and) Retinyl Palmitate (and)Cholecalciferol, Color FD&C Yellow #5.